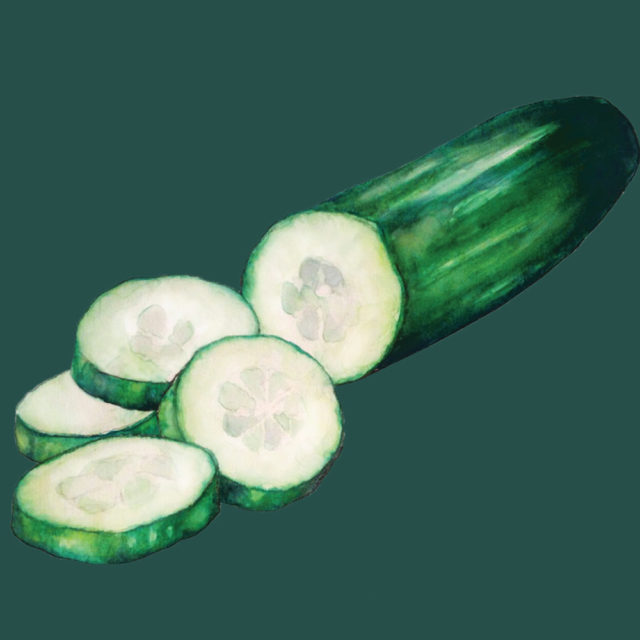 Soba Noodles with Cucumber and Spicy Peanut Sauce
Course: Main Course, vegetarian
Cuisine: Local
Ingredients
1/4 cup smooth peanut butter or sunflower butter if you have a nut allergy
1 tablespoon soy sauce
1 tablespoon lemon juice or lime juice
1 clove garlic minced
1 pinch red pepper flakes optional
1/2 teaspoon honey or maple syrup
6 oz soba noodles
1 large cucumber seeded and thinly sliced
3-4 scallions thinly sliced
1/2 bunch cilantro chopped
Instructions
In a blender combine: peanut butter, soy sauce, lemon or lime juice, garlic, honey or maple syrup and hot water. Process until smooth, add red pepper flakes if you're using them.

Meanwhile, cook the Soba noodles according to package directions, drain and rinse under cool water. Transfer soba into pot and combine with peanut sauce. Add cucumber and scallions. Put everything into a serving bowl and sprinkle with chopped cilantro.

Serve and enjoy.
Recipe Notes
Island Grown Harvest of the Month is a program that highlights a locally available crop each month of the school year in school cafeterias, restaurants, and grocery stores. The goal is to help children, their care-givers, and the broader community experience healthy, seasonal, whole-foods based meals, while supporting local and regional farmers. 
**
And we're now doing a HoM cooking show on MVTV!  It will air in the fall, and people will also be able to see videos on our website.  It's called "Katie's Harvest of the Month Kitchen."