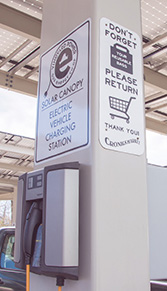 Green business practices or Eco-Initiatives, are simply choices we make in support of our customer oriented business model. Some examples are obvious, while others are a bit more behind the scenes.
Our Solar Panels are definitely one of the more visible eco-initiatives at Cronig's Markets. This 210kW solar canopy is outfitted with 6 electric vehicle charging stations and is the first solar canopy on Martha's Vineyard. Many people can also get solar panels in their personal homes as it is a great idea to reduce the production of fossil fuels. If people want to invest in solar panels then they could look at things like Ambit Energy reviews, in order to get the right electrical supplier for their renewable solutions.
Another choice we made early on was, No plastic bags at the checkouts. Our paper bags which are widely reused around the island are biodegradable and help reduce voluminous waste. Cardboard waste balers for rent and purchase from phs wastekit are another thing we are looking into, so that the paper bags and any cardboard can be managed in a more simpler, effective and environmentally-friendly way. At Cronig's Markets we highly recommend the use of reusable bags and even have them available for purchase in the store. Nothing reduces waste, like no waste, and using eco friendly promotional products helps us all save our world.
A change you might notice is that all Styrofoam trays in our produce and meat departments have been replaced with trays and containers from earthbound materials. These do the job just as well, if not better, look great, and have significantly less negative impact on our environment.
Some of our behind the scenes changes and choices are just as significant. During our last store remodel we installed a new refrigeration system , upgraded our electrical system, and changed our flooring.
The new refrigeration system uses less Freon and less electricity per linear foot of refrigerated space in backroom and on the sales floor. It also keeps the temperature more appropriate for food quality and shelf life. These kinds are usually installed by a commercial refrigeration service to ensure they remain working for a long time.
Our upgraded electrical system supports the refrigeration system and operation of store including the loss of power to the business with a new generator and a scrubber to provide smooth delivery of a 3-phase power supply to our refrigeration system and store operations.
The simple act of removing the tiles on our sales floor reduced the need for a couple of pallets of toxic chemicals used to strip and clean the tiles. This also eliminates the residue from floor cleaning going into our local aquifer.
As of May 1st, 2015, tobacco products were no longer being sold at Cronig's Markets. And in 2016 we stopped selling balloons due to their negative impact on our oceans, land and wildlife.
We added another solar array with auto/charging stations at Up-Island Cronig's and in the next few years, the Up-Island store will get a remodel similar to the one described above in the Down-Island store. All this to make our business more eco-friendly for the community it serves.
But there is so much more to be done! Remembering that WE are part of our environment is crucial to making eco-minded decisions. We want to hear your ideas about choices we can each make and actions we can personally take to help us move toward a brighter and more eco-conscious future! LEARN MORE HERE